FoodBud is a concept app that was designed to encourage healthy cooking to users who have busy schedule. Most people spend lot of time searching for the right recipe or the right recipe requires them to shop for ingredients. Foodbud app keeps track of items in the user's pantry and recommends recipe based on the ingredients available at home. This saves users time from browsing endless recipes and unfortunately end up eating processed food.
My role on the team
Identify the appropriate research method and come up with a research plan Facilitate affinity diagram workshop Assist team in definiting UI elements Prototype mobile app screens Drive usability study
Problem
How to encourage people to prepare healthy meal at home by providing a better cooking experience
Discovery Phase
Survey
Sent out a survey asking people about their cooking experience, how much time they spend cooking, what they do when they don't have necessary ingredients, what sources they use to learn new recipes and more. Result:
68 people took the survey with 60% respondents being within the age group of 20-30 years.
Survey results showed that most people in this age group have intermediate cooking experience and some like to prepare new dishes.
When people don't know what to do with the ingredient they have, they refer social media and videos or call family and friends to ask for recipes.
Due to the difficulty of finding all the necessary ingredients when required, respondents said that they resort to buying packed food or order from restaurants.

Contextual Inquiry
I visited 5 participants home to observe their cooking process. This gave some unique insights into how people go about finding recipes and cooking meals for themselves. Some of the answers, like how important prep time was to users was further emphasized when hearing and seeing how they responded to the question. Results:
Meal prep seemed very crucial to these participants, as most of them said that they don't have enough time to prepare meal.
Finding ingredients is another task which is most time consuming.
When they don't get time to prepare, participants said they buy packed food or order meal.
I noticed that 3 of the 5 participants had stacked up canned food or ready-to-eat packs.
When it comes to cooking process, one participant was looking at the recipe on his phone and they had a hard time using the touch screen while preparing.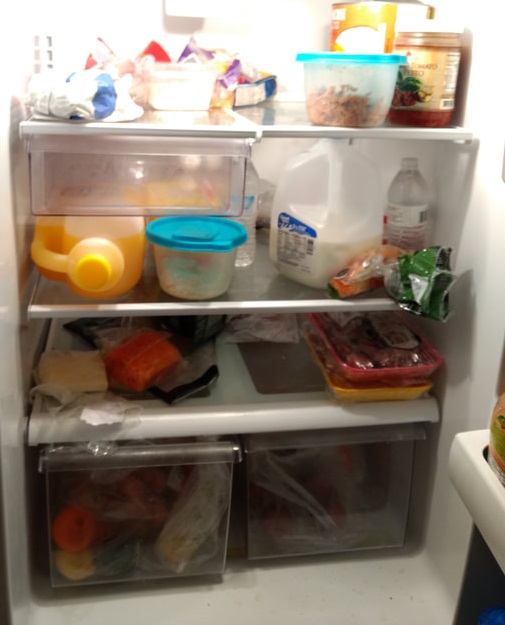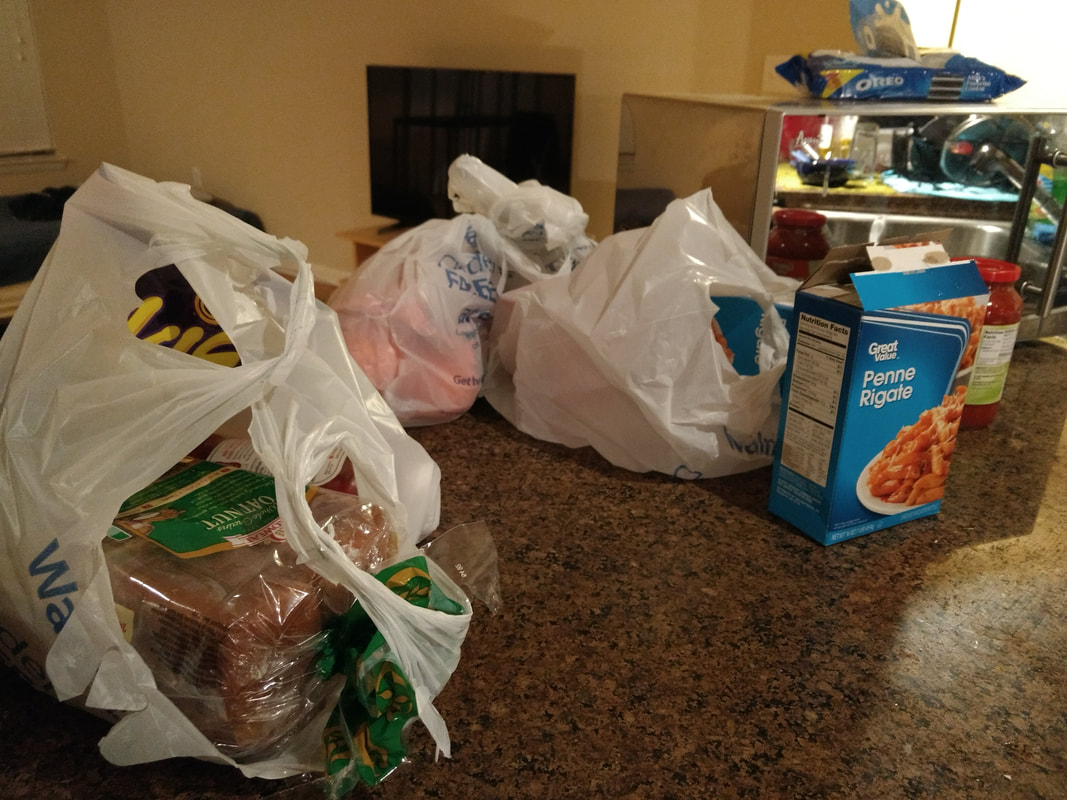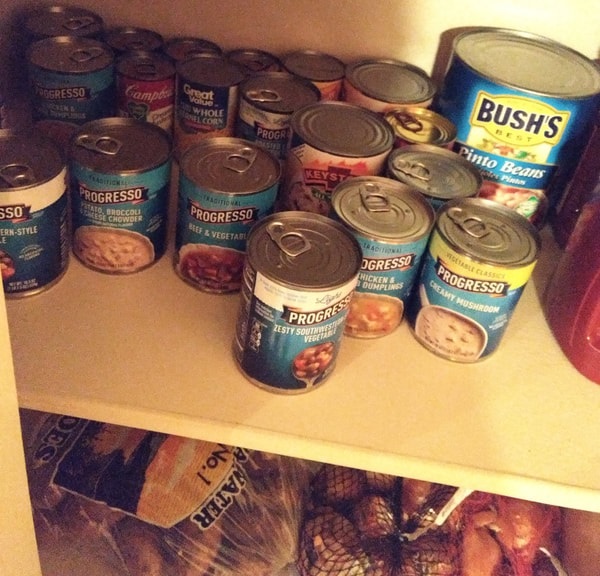 Empathy Map
Based on all the findings we created an empathy map to understand what goes on in their environment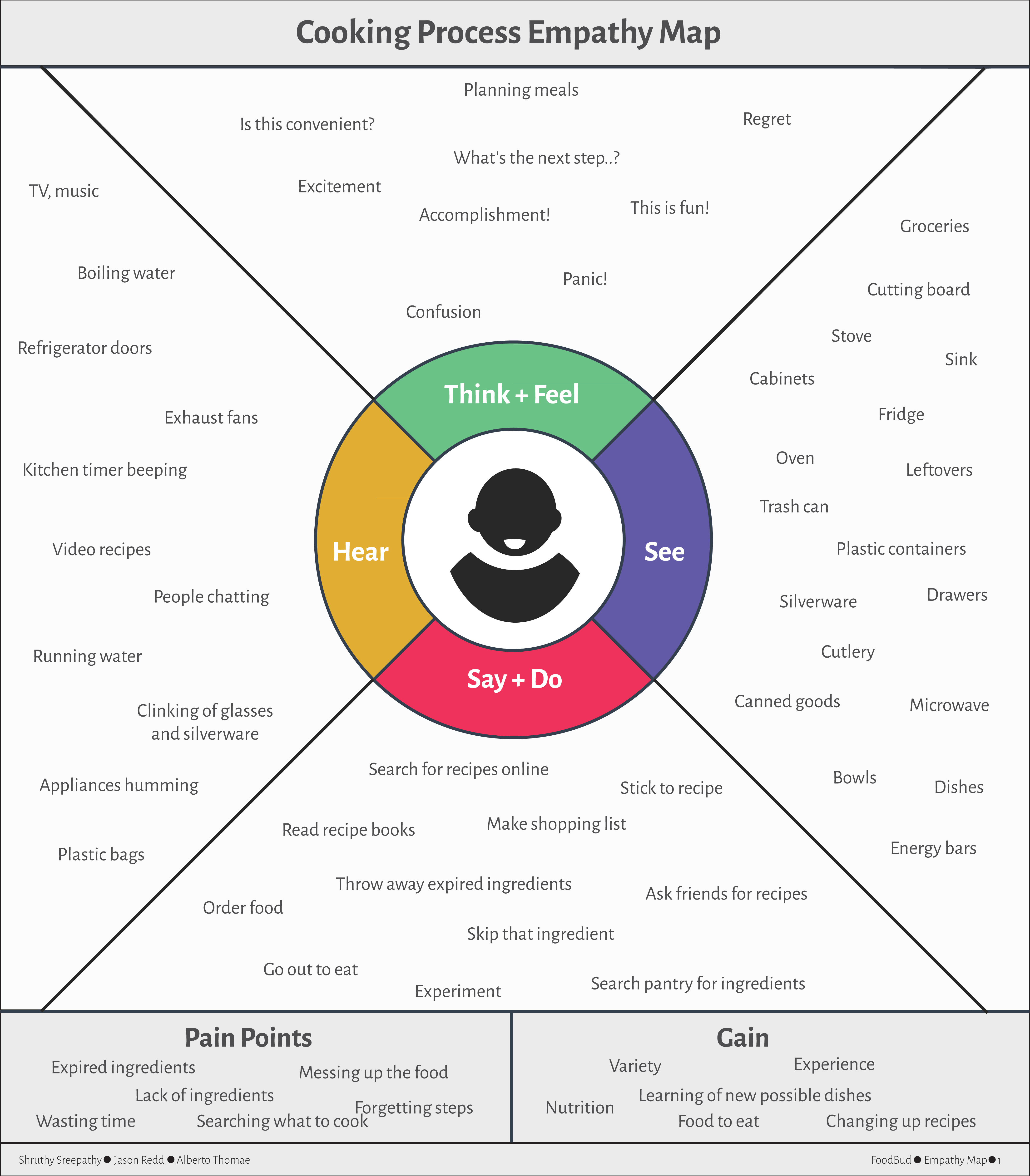 Define Phase
Affinity Diagramming
Gathered data from contextual inquiry and survey, and spread out each point on whiteboard using sticky notes. This activity reinforced our initial idea and expanded our view to additional problems like hygiene factor. On completing this activity we restated our problem statement - "How to provide recipes based on ingredients available in users inventory while taking diet/ hygiene into account?"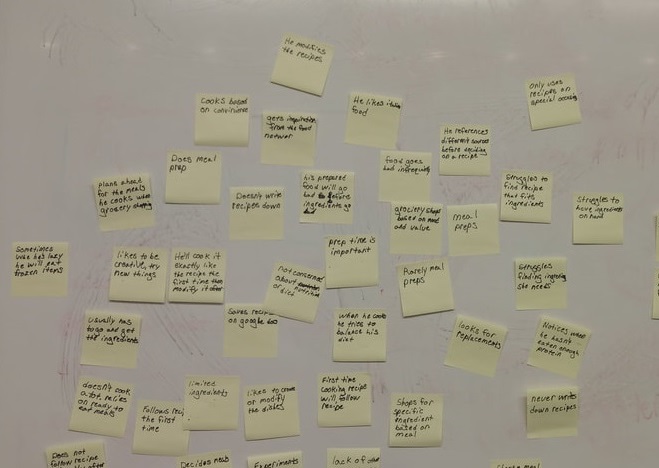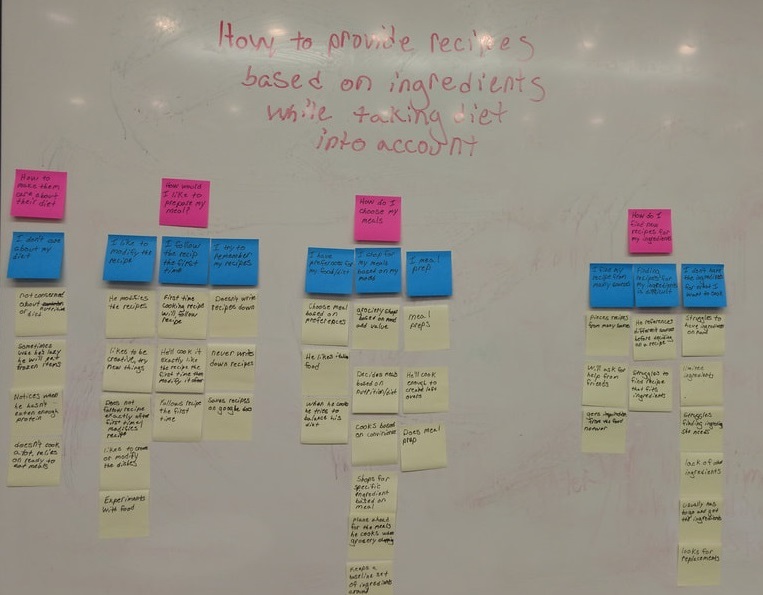 Persona
From the survey results and contextual inquiry data, we made analysis to form three personas based on different age group, cooking experience, cooking habits, number of times they cook in a week, value for family and relation. Based on the survey results we framed their skills, goals, frustrations.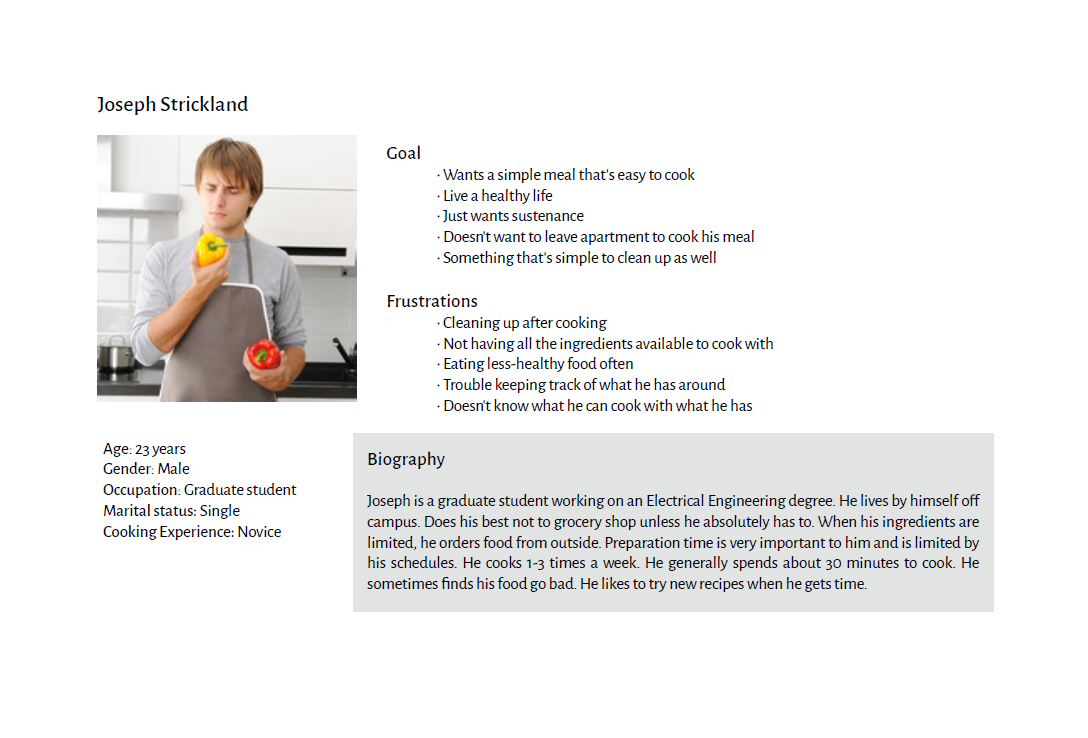 User Journey Map
This journey map followed how a current users might go about researching recipes to cook from and the processes of cooking the food while following a recipe. The map took into account Kimberly's (on of the persona) busy schedule and the fact that she had to cook for the family as well. How she might have initial feelings of happiness or enjoyment from doing a certain task that then quickly turns to frustration or anger when that task starts to take more time than initially anticipated because she couldn't find a recipe that fits her inventory. Overall the user journey map has helped identify some potential issues a user might run into currently when trying to research new recipes to cook from.
Design Phase
UI Kit
Exploring Android design guidelines, Apple design guidelines and few competitor's app design, my team and I formulated a design language and created a UI kit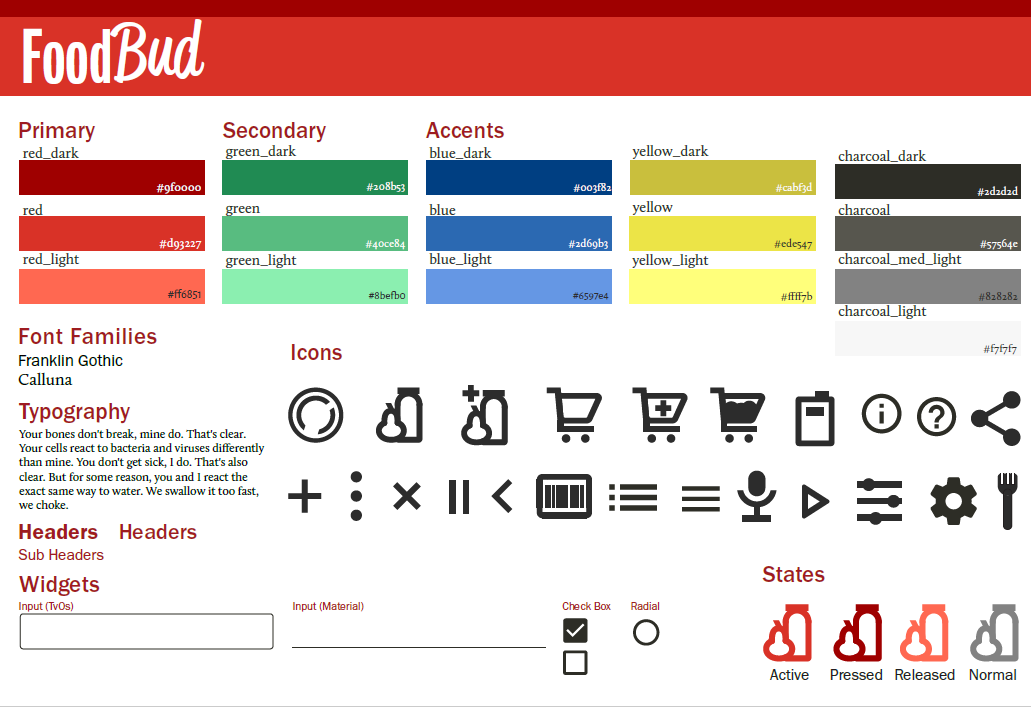 Prototyping
With this design language, I did a combination of exploratory and rapid prototyping to design the mobile interface. I translated the low fidelity designs to high fidelity using Adobe Illustrator and marvel app. Click on the links to view the prototype and app video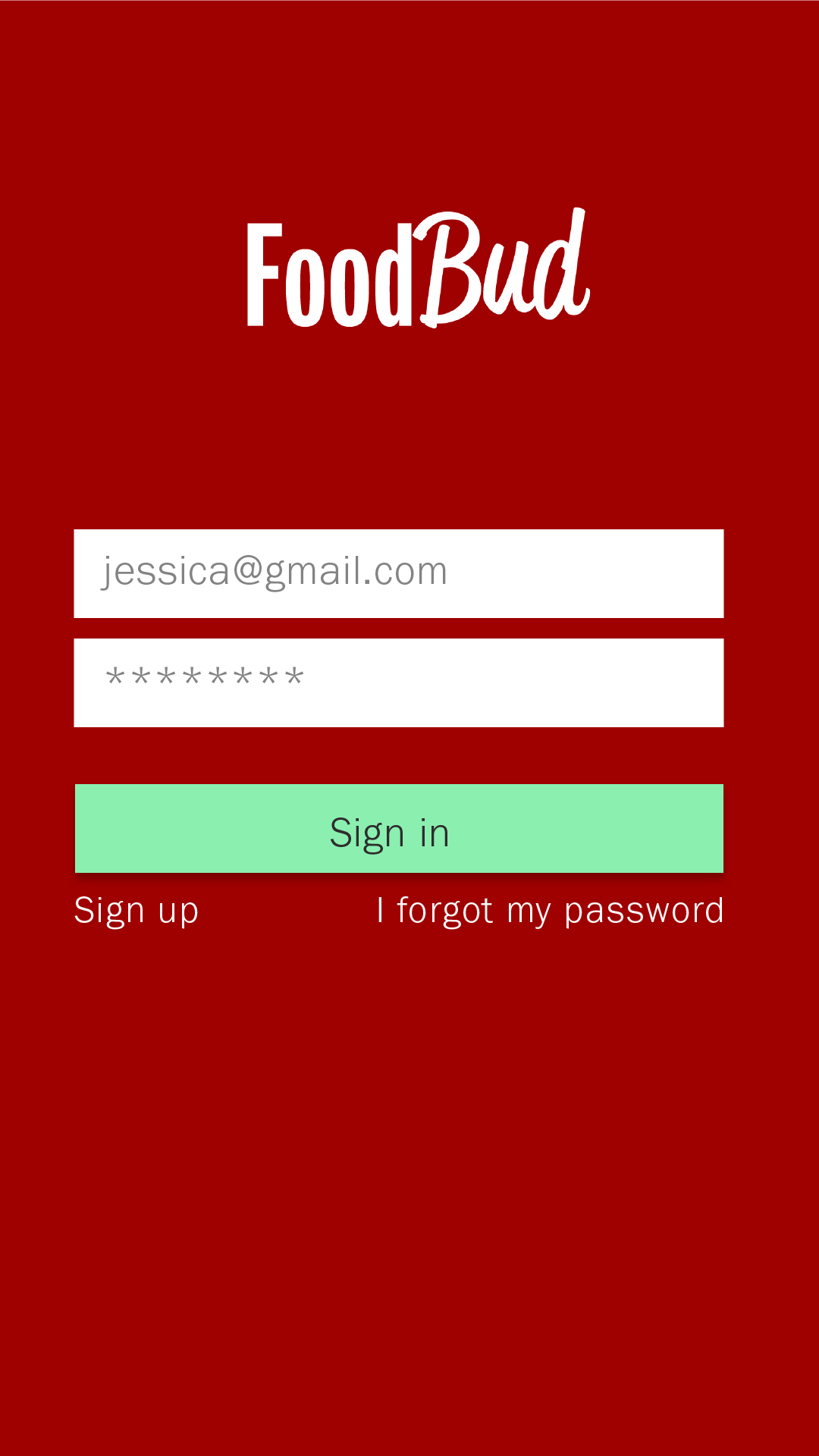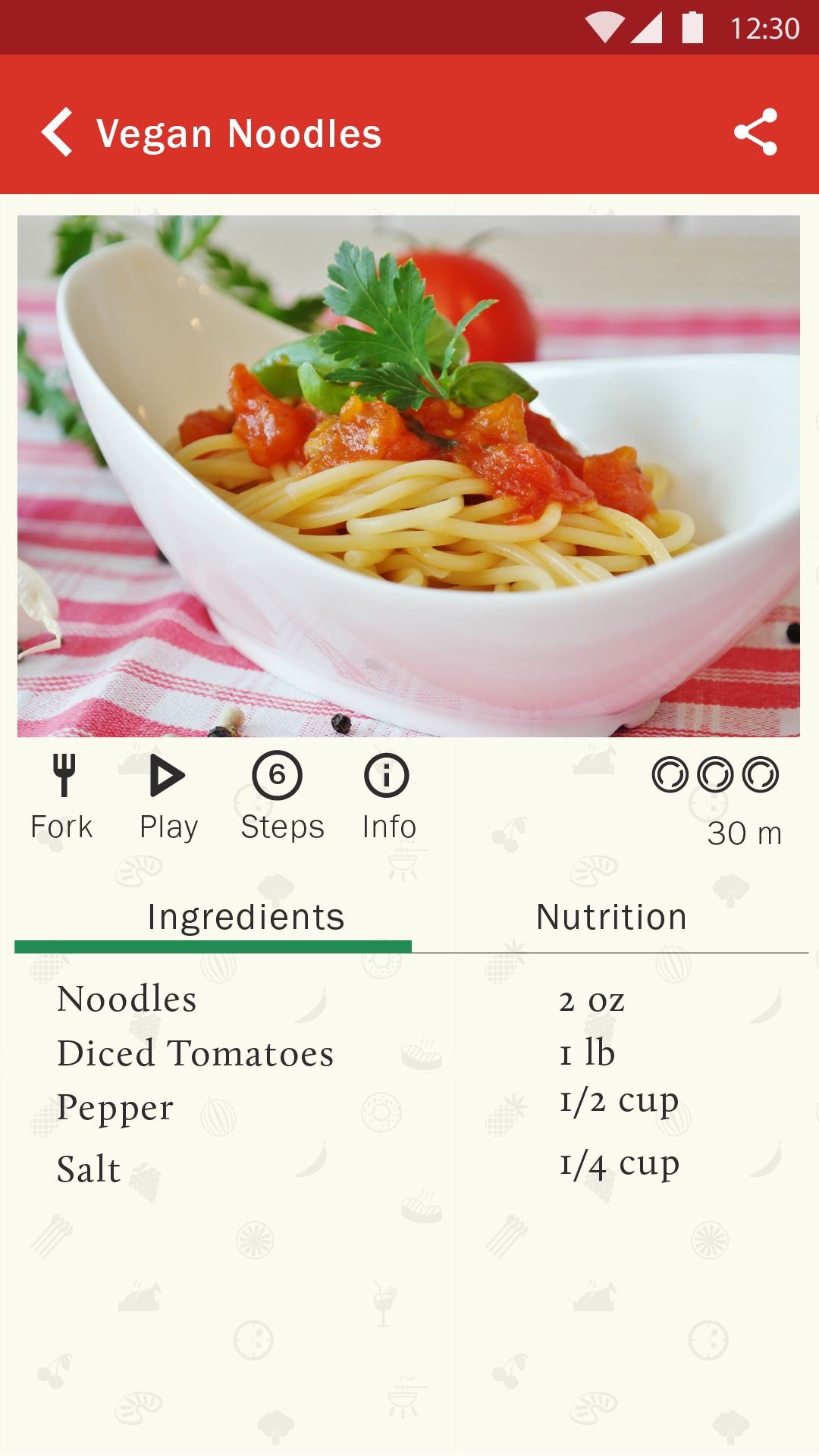 Deliver Phase
Usability Testing
I conducted usability testing with four participants and saw relatively similar results with all participants. Users saw the value that FoodBud could bring to them. Test participants could see themselves using FoodBud on a regular basis and they liked the inventory tracking feature. Though they did have some issues with the design language, all four users gave positive feedback on the overall look and feel. Over all FoodBud was acceptable to the participants.
Disclaimer - This was a school project and I was part of a team of three. I led the user research for this project and created mobile interface prototypes by following the design language and UI kit standards my other two teammates designed.